"Your Space, Made Simple" is your ultimate guide to stress-free interior design. This book provides a recipe-style format for each room in your home, offering sizing guidance, a complete item list, and step-by-step instructions to create well-designed, functional spaces. Say farewell to design challenges and welcome effortlessly curated rooms that authentically express your style and personality.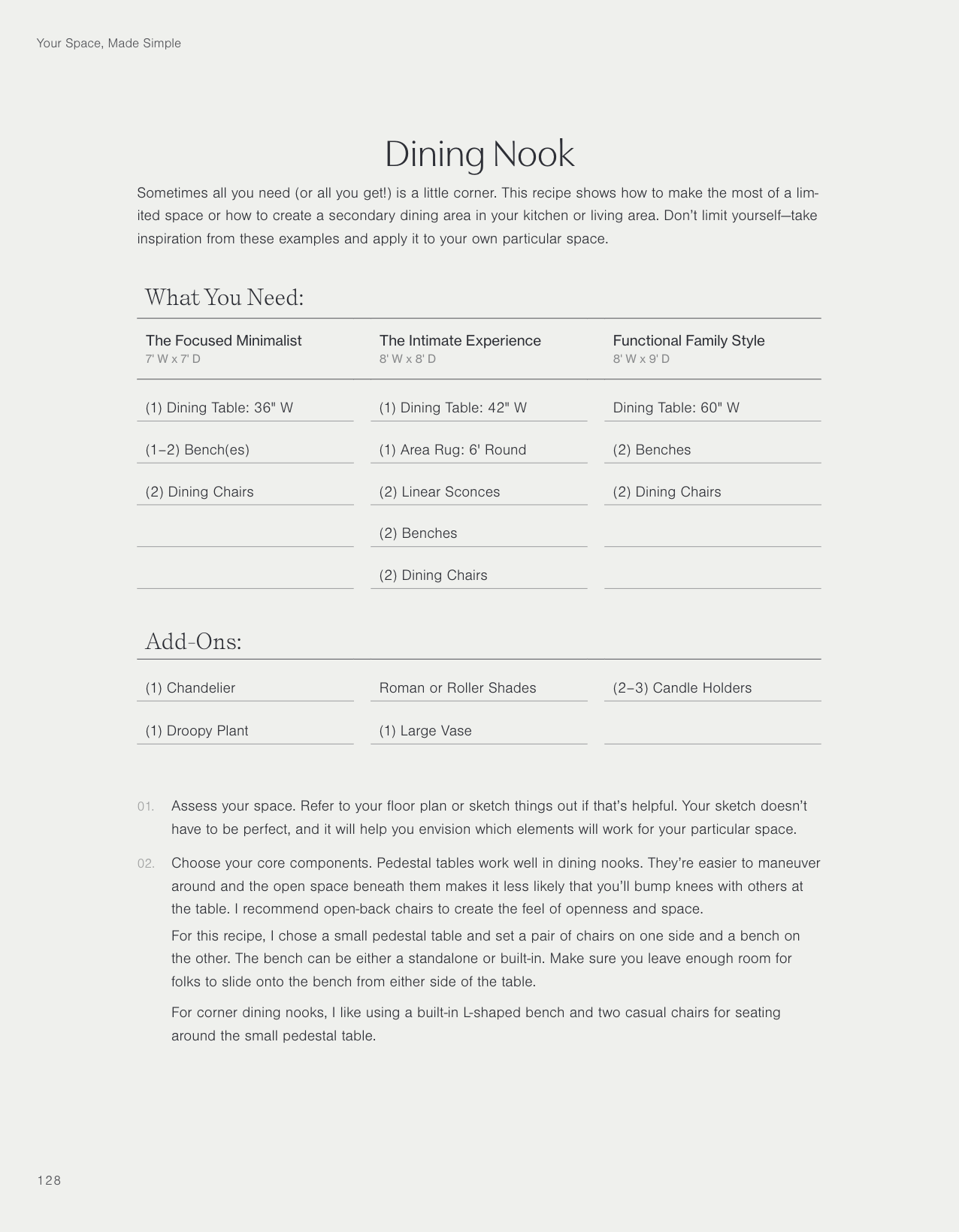 Add Your Tooltip Text Here
Add Your Tooltip Text Here
AVAILIBLE FOR PURCHASE AT
The book is thoughtfully broken down into distinct room types, each brimming with valuable sizing recommendations, creative ideas, and inspirational insights. Whether you're tackling your living room, bedroom, kitchen, or any other space, you'll find a wealth of practical guidance to implement effortlessly. It's like having a personalized design consultant at your fingertips, making your journey to a well-curated and inviting home an enjoyable and straightforward experience.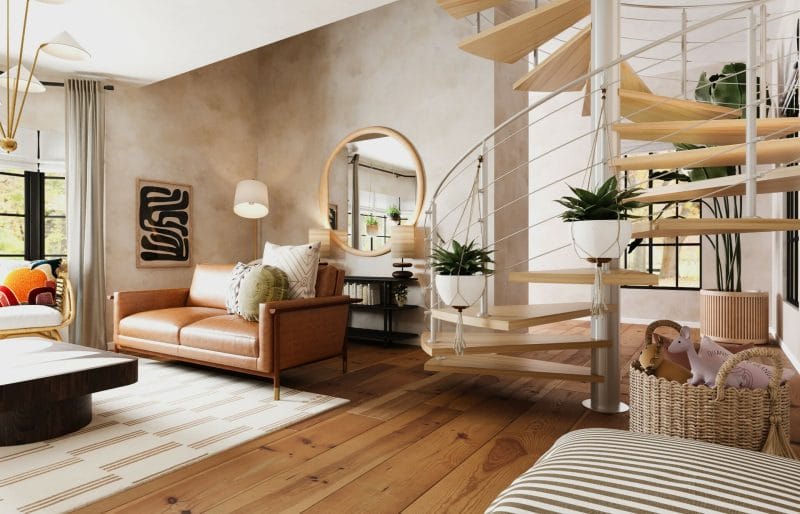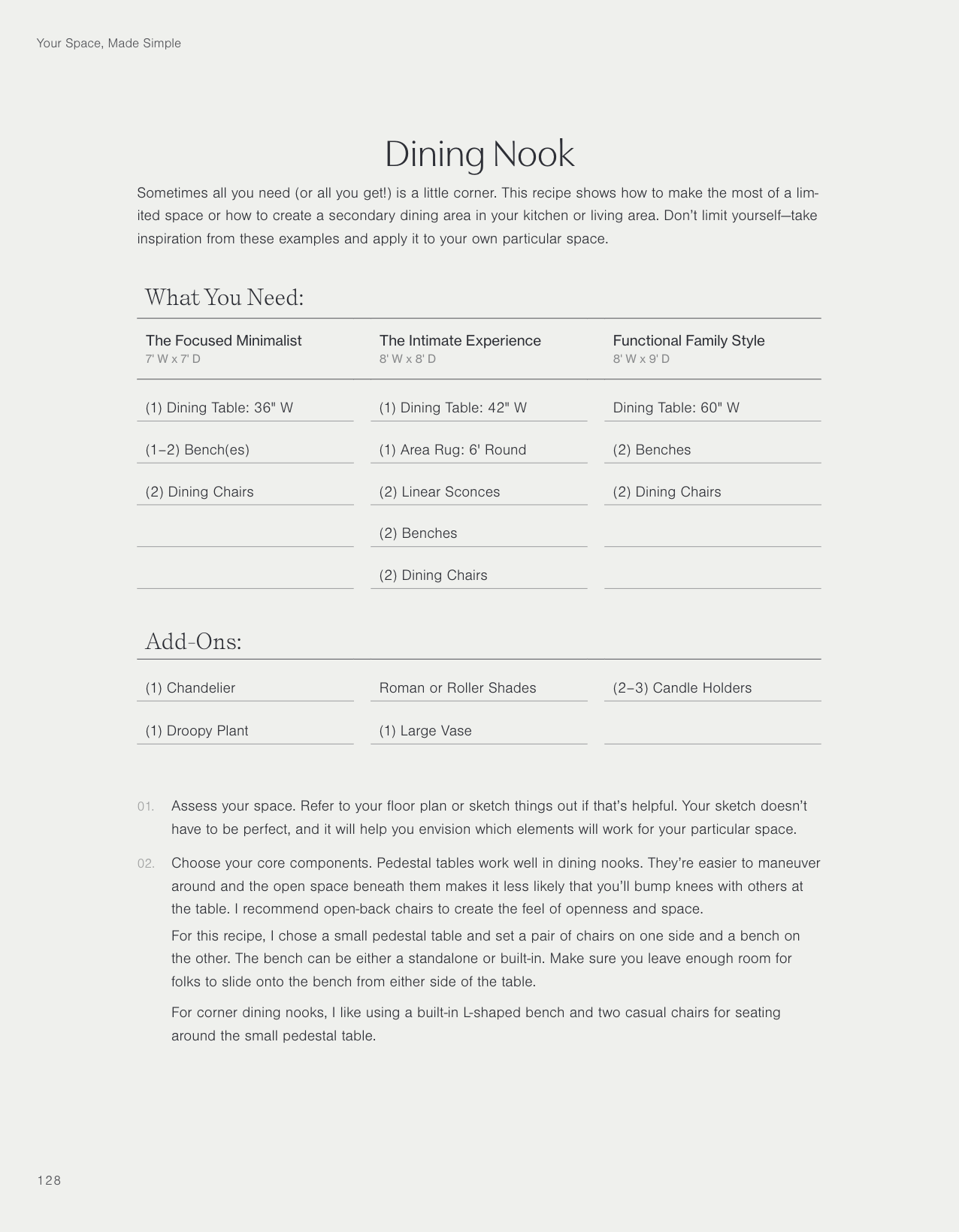 Add Your Tooltip Text Here
Add Your Tooltip Text Here
01. Select Your Desired Room Type
Begin by choosing the specific room in your home that you wish to design. Whether it's your cozy living room, serene bedroom, or the heart of your home, the kitchen, our book covers various room types. Each section is designed to provide tailored insights and recommendations for the particular space you're interested in transforming.
02. Explore the Recipe and Visual Guide
Once you've identified your target room, dive into the corresponding section of the book. Here, you'll find a detailed "recipe" that outlines the essential elements required for the room's design. Just like following a recipe in a cookbook, we break down the design process into manageable steps. Accompanying the recipe are visual illustrations that help you envision how each element comes together to create a cohesive and aesthetically pleasing space.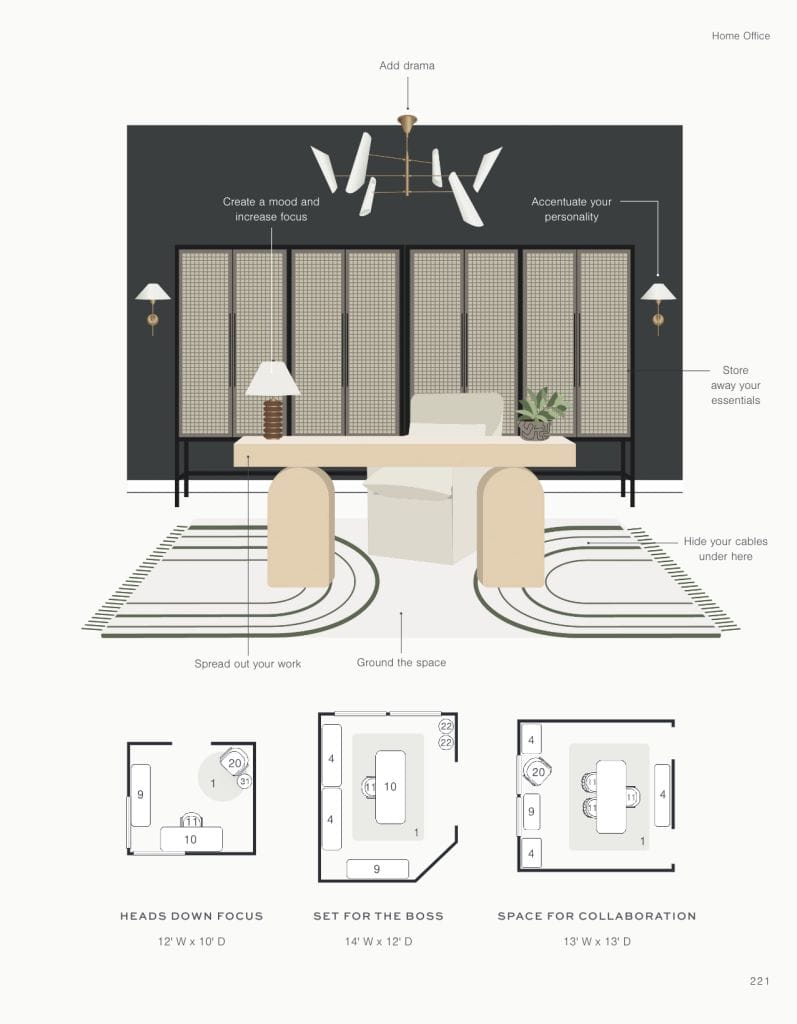 03. Embark on Your Design Journey
Armed with the recipe and visual guide, it's time to embark on your design journey. Begin implementing the design changes based on the step-by-step instructions provided. This hands-on approach allows you to transform your space with confidence and creativity, ensuring that every detail is meticulously considered. Say goodbye to design dilemmas and hello to a well-designed, harmonious living environment that suits your unique style and needs.
Your Space, Made Simple goes far beyond most interior design displays to consider not just the usage of a home, but the message it embraces, reflects, and embeds in its design choices.
This book would be a great selection for a library with a well-used design section. Best for new homeowners and readers looking to redecorate, but the visual details could attract a variety of creative people.
While many interior design books are peppered with anecdotes and tips, her guide features "recipes" for every room in the house that show what furniture and decor you'll need and how to arrange it—down to the inch.
Recipes For Interior Design Success
I've been following the author on IG and saving all her posts. Now I have her book with all her fantastic visuals and interior design recipes all in one place. I love everything about her book! If you need help designing your space pick up this book.
So Practical and Easy To Follow
Love this book for the content and as decoration! I need easy to follow, practical and affordable design options. This book has all of that!
I love that it's broken down but still doesn't skimp on the important design basics like layering and size of pieces.
Can wait to use this book to tackle more rooms in my home!
Honestly this book is a 10/10. I just moved into my first house and had no idea where to begin. I was able to decorate my whole house, every room, with this simple book. I decorated with things that actually are to my liking and will last a lifetime. 
Perfect easy to use design book
This book has quickly become an important tool in our new home that we've been working on furnishing! We're first time home owners, completely new to design and want to put a lot of thought into making our house a home. We've recently upgraded our entryway using the guides and tips from this book. The "recipes" have greatly simplified the process and even my husband now loves to grab the book to refer to when we're thinking up new ideas! We couldn't be happier with this book 🫶
Easy- step by step guide!!!
I just finished this book and it really does show how interior design doesn't have to be hard and really does teach how to create the perfect space in your home! I'm currently in the process of coming up with ideas to redo our master bedroom and bathroom and I've been referencing this book like a bible during the process. It really is a easy step by step guide to getting you what you want in a space! Highly recommend! If you want to redo your space in anyway, this book is a must have!!!
The Only Design Book You'll Ever Need
This is the best interior design book we've ever bought. Since reading it, we feel well-equipped to spend our money wisely while decorating our apartment.
Magidson's writing style is warm, semi-casual, and thoughtful; reading her book feels like talking to an old family friend who just so happens to be a brilliant decorator. The "recipe" images in the book are ideal for envisioning what type of pieces would look best where, plus the "recipes" for each type of room are adjustable to any size or space! Whether you live in a cramped studio or a sprawling house, there are plenty of "recipes" to add balance and homeyness to your space. I've added pictures to this review so you can see what I mean.
There's emphasis on conscious consumption and home accessibility for those with physical and/or mental disabilities, which I appreciate. I haven't read many interior design books that touch on these topics at all, but I love how Magidson makes sustainable and accessible home design easy to understand and implement.
The best part of this book (beyond the "recipes") is the section on habits. Magidson advises you to think about the most important habits of your day-to-day life and prioritize designing your home to best accommodate those habits. For example, if you always have morning coffee with your spouse, prioritize making a cozy coffee nook! Or perhaps you're an introvert who likes to curl up with a book every night? Don't buy furniture to accommodate 8+ people for parties you'll never have; focus on building "cozy corners" for you to unwind and recharge in.
Buy this book. For the price, it's practically a steal for how much decorating wisdom you'll glean from it.